La station de ski de Mukinje
---
STATUT : FERMÉ
HEURES D'OUVERTURE
Lun. – Dim. │ 9:00 - 16:00 
* A COVID certificate is required to use the ski resort services. It will be checked before the payment at the box office and before entering the trail - the ski area.
Depuis les années 1980 le ski est inclus dans l'offre touristique d'hiver du Parc national des lacs de Plitvice. Une station de ski est située le long de la route nationale D429, plus précisément dans le village de Mukinje. La station de ski est à 2,5 km de l'entrée no. 2 et du complexe hôtelier situé au Parc National. Autrement dit elle se trouve à 5 km de l'entrée no.1 et du restaurant très connu Lička kuća, dans la direction de la Côte Adriatique.
La station de ski est équipé d'un télésiège, capacité 400 personne par heure, qui amène les skieurs sur une clairière à 700 mètres au-dessus du niveau de la mer. De là, les skieurs descendent la pente par plusieurs pistes jusqu'au pied de la colline, à 640 mètres au-dessus du niveau de la mer.
La longueur des pistes est environ 400 m. Outre le ski et le snowboard il est possible de faire de la luge sur la pente, mais les visiteurs doivent se rendre au sommet par eux-mêmes.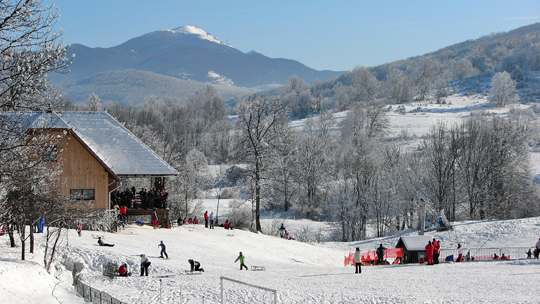 La station de ski vous offre la possibilité de louer le matériel de ski ainsi que le matériel de snowboard et les luges, les luges pelle et les luges triangle pour descendre la pente.
Il est possible de réserver tout matériel de glisse en avance.
Puisque les inclinaisons des pentes sont très douces (inclinaison moyenne 15%), la piste est destinée aux débutants, amateurs et enfants.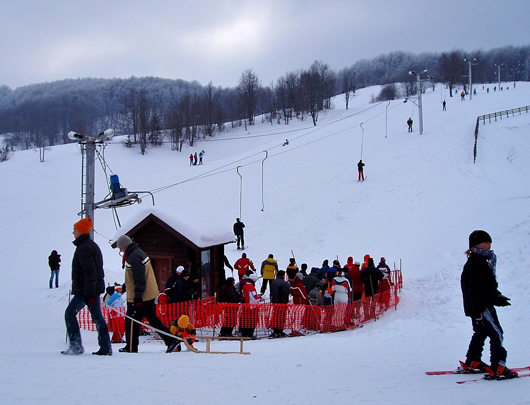 La station de ski de Mukinje est disponible pour les visiteurs quand les conditions naturelles nous permettent l'aménagement de la piste. Alors le télésiège est aussi en fonction. Le vendredi et le samedi on vous propose le ski nocturne sur une piste éclairée.