Skigebiet Mukinje
---
STATUS: GESCHLOSSEN
ÖFFNUNGSZEITEN
Mo. – So. │ 9:00 - 16:00 
*A COVID certificate is required to use the ski resort services. It will be checked before the payment at the box office and before entering the trail - the ski area.
Schon seit den 80-er Jahren des 20. Jahrhunderts umfasst das Winterangebot des Nationalparks Plitvicer Seen auch Skifahren. Das Skigebiet liegt an der Staatsstraße D429 in der Siedlung Mukinje.
Es ist ca. 2,5 km vom Eingang 2 und Hotelkomplex des Nationalparks Plitvicer Seen bzw. ca. 5 km vom Eingang 1 und dem berühmten Restaurant "Lička kuća" in Richtung Adriaküste entfernt.
Das Skigebiet verfügt über einen Skilift mit einer Kapazität von 400 Personen pro Stunde, der die Skifahrer bis zu einer Lichtung auf etwa 700 m Höhe bringt. Von dort aus können die Skifahrer dann eine der mehreren Skipisten hinunter bis zum Bergfuß auf etwa 640 m Höhe fahren.
Die Pistenlängen betragen ca. 400 m. Außer Skifahren und Snowboarden kann man auch den Hang zu Fuß besteigen und hinunter rodeln.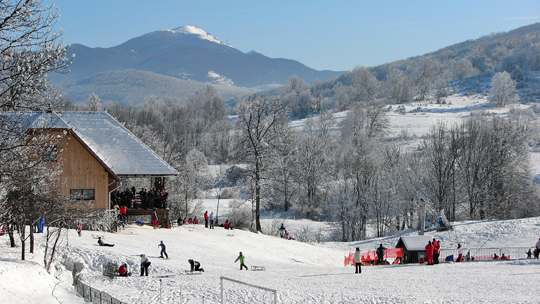 In unserem Skigebiet werden Ski- und Snowboardausrüstung sowie Schlitten, Schneeteller und -rutscher vermietet.
Die gesamte Ausrüstung kann im Voraus reserviert werden.
Dank seiner sanften Hänge (durchschnittliche Neigung 15 %) ist das Skigebiet für Anfänger, Freizeitskifahrer und Kinder gut geeignet.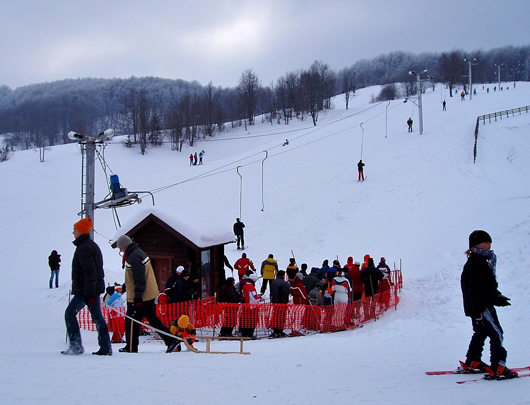 Das Skigebiet Mukinje wird Touristen zur Verfügung gestellt, wenn die für die Vorbereitung der Skipisten erforderlichen Wetterbedingungen erfüllt sind. Dann wird auch der Skilift in Betrieb gesetzt. Freitags und samstags organisieren wir außerdem das Nachtskifahren unter Flutlicht.