Il centro sciistico Mukinje
---
STATUS: CHIUSO
ORARI D'APERTURA
lun. – do.│ 9:00 - 16:00 
*A COVID certificate is required to use the ski resort services. It will be checked before the payment at the box office and before entering the trail - the ski area.
Già dagli anni '80 del secolo scorso l'offerta turistica invernale del Parco nazionale dei Laghi di Plitvice comprende pure lo sci. Il centro sciistico è sistemato nel paese di Mukinje, accanto alla strada statale D429.
Dista circa 2,5 km dall'Ingresso 2 e dal complesso alberghiero del Parco nazionale dei Laghi di Plitvice, ovvero circa 5 km dall'Ingresso 1 e dal famoso ristorante "Lička kuća", in direzione della costa adriatica.
Il centro sciistico dispone di una sciovia con capacità di trasporto di 400 sciatori all'ora che traina gli sciatori fino ad una radura a circa 700 m di altitudine da dove gli sciatori, scegliendo tra un paio di piste, fanno la loro discesa fino ai piedi della collina all'altitudine di circa 640 m.
La pista è lunga circa 400 m. Oltre a sciare e scendere sullo snowboard, è possibile slittare lungo il pendio su cui gli amanti della slitta si arrampicano da soli.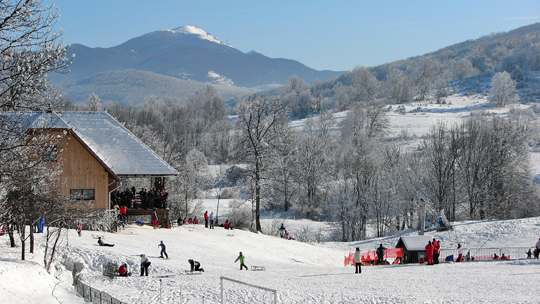 L'offerta sciistica comprende il noleggio dell'attrezzatura da sci e da snowboard e il noleggio di slittini, dischi e palette da neve per la discesa lungo il pendio.
Tutta l'attrezzatura può essere prenotata in anticipo.
Il centro sciistico è ideale per principianti, bambini e dilettanti grazie ad una pendenza lieve della pista (inclinazione media di 15%).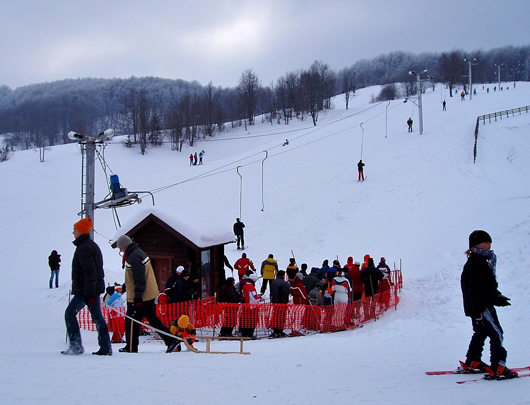 Il centro sciistico "Mukinje" è aperto agli utenti quando sono soddisfatte le condizioni naturali che ci consentono di sistemare la pista. Allora è in funzione pure la sciovia. Di sabato e domenica organizziamo lo sci notturno sotto i riflettori.