Skiing has been part of winter tourism activities offered by the Plitvice Lakes National Park since the 1980s. The ski resort is located next to the DC1 state road, in the village Mukinje.
It is approximately 2.5 km away from Entrance 2 and the Plitvice Lakes National Park hotel complex, and some 5 km away from Entrance 1 and the famous restaurant "Lička kuća", in the direction of the Adriatic coast.
The ski resort has one ski lift with the capacity of 400 skiers per hour which pulls them to the glade at approximately 700 m a.s.l., from where the skiers can descend via several ski trails back to the foot, which is at about 640 m a.s.l.
The ski trails are around 400 m long. Apart from skiing and snowboarding, it is also possible to ride a sleigh down a slope to which the sleigh riders climb on their own.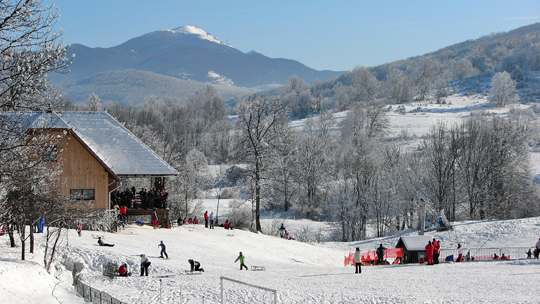 The ski resort offers rentals of skiing and snowboarding equipment, as well as sleighs, snow saucers and toboggan sleds for sliding down the slope.
All equipment can be reserved in advance.
Due to the gentle slope gradient (average slope gradient is 15%), the resort is suitable for beginners, recreational skiers and children.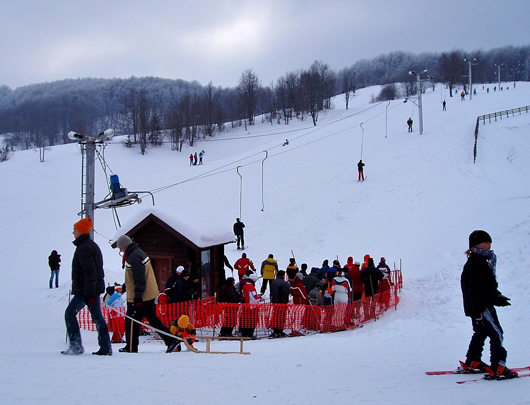 Status: Closed
Mukinje ski resort is available to users as soon as we have the natural conditions necessary to prepare the slopes. At that time, the ski lift will also be up and running. In these conditions, the ski lift's working hours are 9 AM to 4 PM. On Fridays and Saturdays we also organize night skiing under floodlights from 5 PM to 9 PM. The equipment can be rented until 3 PM (daytime skiing) or 8 PM (night skiing on Fridays and Saturdays).
You can check on current conditions by calling the park at  +385 (0)53 751 281.