Dear all,
for your summer visit of Plitvice Lakes National park, we have prepared interesting offers and activities. Our wish is that you experience Plitvice Lakes in the best possible way but also to show you that you can also experience the surroundings of Plitvice Lakes and see all the beauties of Lika Destination that we are part of. Here, we call that experience #PlitviceFullExperience in Lika Destination. And summer combined with beautiful nature must be a winning combination for a great escape from the busy everyday life.
Check out what we've prepared for you: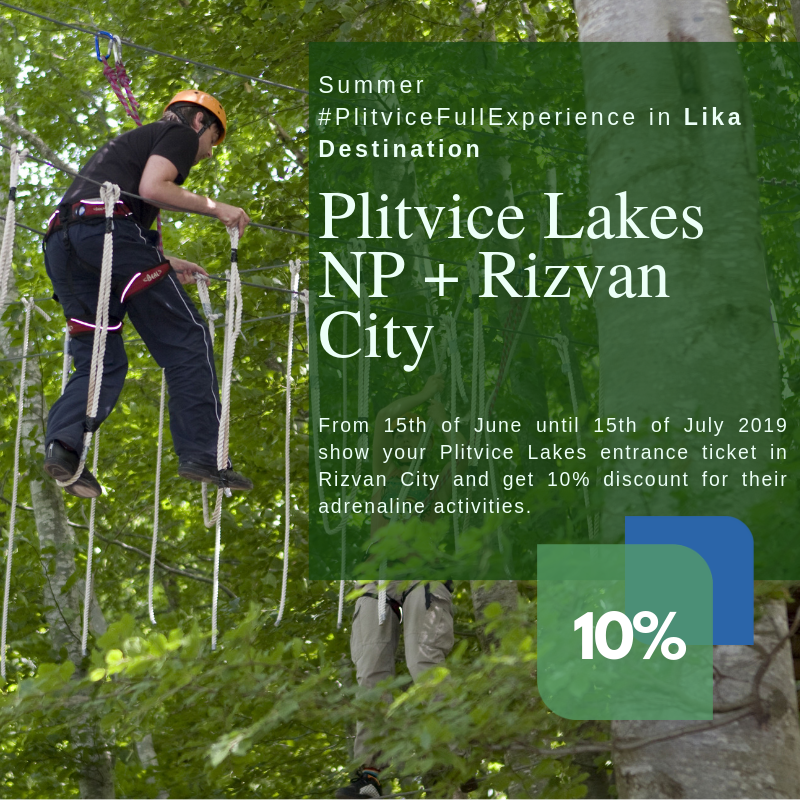 From 15th of June until 15th of July, after visiting Plitvice Lakes National Park, visit Rizvan City, show your ticket from our Park and get 10% discount for following activities:
Adrenaline park
Zipline
Climbing wall
Giant swing
Kayak safari (river Lika)
Quad safari
Escape room "Secret of Nikola Tesla"
Paintball
Note: announcement of arrival is mandatory. You can find contacts and info on website of Rizvan City.
If you still haven't decided, we recommend that you look a couple of photos of Rizvan City. We believe that you will quickly decide when you are coming to experience our summer #PlitviceFullExperience in Lika Destination.
We look forward to your arrival!
Rizvan City and Plitvice Lakes National Park