TICKET PRICES
Dear all, in order to experience the beautiful autumn colors in the Plitvice Lakes National Park, we have prepared the following ticket prices for you from 26.10. to 31.12.2020.:
Period ►
Price per person (HRK) ▼
26.10.-31.12.
Adults
80,00
Adults- groups*
75,00
Students
50,00
Students- groups*
45,00
Children 7 to 18 years
35,00
Children 7 to 18 years- groups*
30,00
Children up to 7 years and persons with disability (over 50%)
Free of charge
---
Two day entrance tickets
Period ►
Price per person (HRK) ▼
26.10.-31.12.
Adults
120,00
Students
70,00
Children 7 – 18 godina
60,00
Mandatory entry of the visitor name on the ticket.
---
---
BOOK YOUR ACCOMMODATION IN THE HEART OF THE PARK – IN HOTEL JEZERO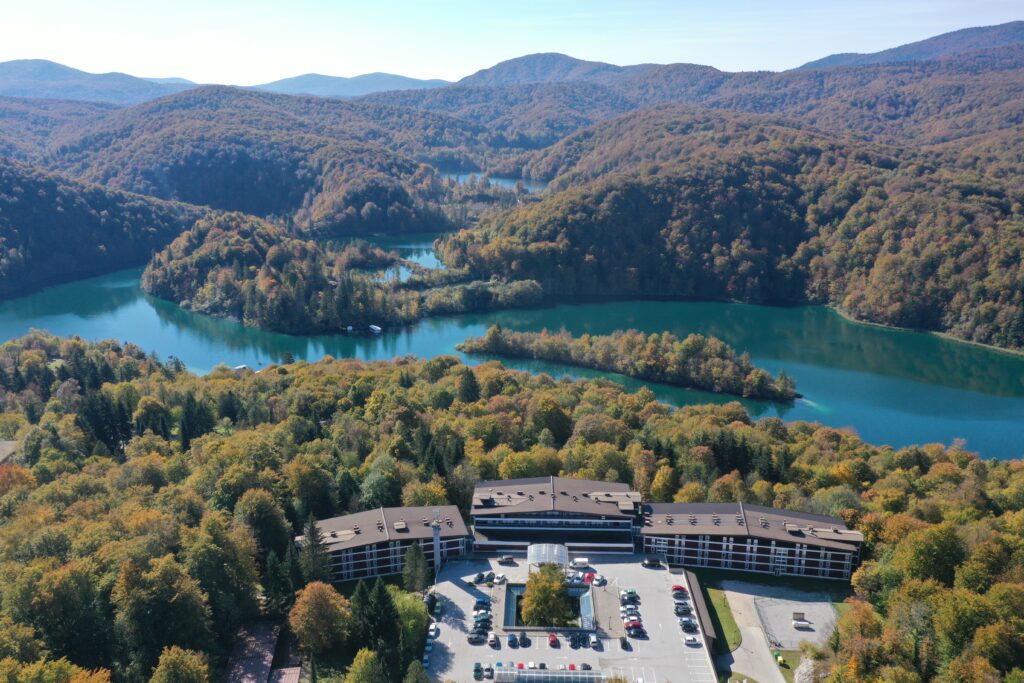 Packages 01.11.2020.-25.03.2021.: Bed and breakfast, ticket included for a visit to the Plitvice Lakes National Park, 20% discount on dinner in the restaurant Lička kuća, 20% discount on the use of the Finnish sauna in hotel, 20% discount on massages in the Fors Fortis salon hotel: from 350.00 kn per person. More
Additional benefit for hotel Jezero guests: Saturdays and Sundays in November and December: free guided tour with the official guide of the National Park
---
Gastro offer
National restaurant Lička kuća
While planning your visit, for gastronomic delight in the original ambience of Lika, we recommend the national restaurant Lička kuća where visitors can feel the tradition of Lika and taste its traditional dishes, but also some new ones, created by our team of Lička kuća chefs. Order dishes like traditional soup with lamb, potatoes and vegetables, tortellini stuffed with cottage cheese (handmade tortellini on pumpkin cream, arugula pesto, fried pumpkin seeds, sauteed mushrooms, ripe cow cheese) and many others.
More details as well as the menu can be found at the link.
---
Bistro Vučnica
Two kilometers from the southern entrance (Entrance 2) to the national park, is located the Vučnica bistro, overlooking a small ski resort and the beautiful nature that surrounds it. Bistro Vučnica offers visitors homemade sausages, pizzas, burgers and desserts such as basa cake, so it is an ideal place to take a break after visiting the Park.
More details as well as the menu can be found at the link.
---
Restaurant Poljana
Meal at the Poljana restaurant will be a treat for all your senses – the aroma of the freshly prepared food, traditional flavours, beautiful views and birdsong in the background… The rustic appearance, wooden details and traditional building style of the restaurant are a monument to Plitvice Lakes National Park's history. After the fresh Lika air whets your appetite, enjoy the locally sourced products and traditional dishes..
Special offer of restaurant Poljana until 30.11.2020:
| | |
| --- | --- |
| Menu 1: 50,00 kn | Menu 2: 55,00 kn |
| Vegetable soup | Beef soup with homemade noodles |
| Chicken Sauté Stewed rice Seasonal salad | Grilled burger patty Tomato-based vegetable stew, baked potato Seasonal salad |
| Ice cream or fresh fruit | Fruit salad |
More details about restaurant can be found at link.
---
Additional information relevant to your visit
Working hours
Park working hours:
07:00 – 15:00
Parking (entrance 1): free of charge
Parking (entrance 2): closed
Ticket sales:
until 13:00
| | |
| --- | --- |
| Electric boats | |
| Short route (P1 – P2) | from 08:00 to 15:30 (as needed) |
| Long route (P2 – P3) | from 08:30 to 14:30 (every 60 min) |
| Long route (P3 – P2) | from 09:00 to 15:00 (every 60 min) |
| | |
| --- | --- |
| Panoramic train | |
| St2 – St1: | from 08:00 to 15:45 (every 30 min) |
| St1 – St2: | from 08:30 to 16:00 (every 30 min) |
| St2 – St3: | from 08:00 to 15:00 (every 30 min) |
| St3 – St2: | from 08:30 to 15:30 (every 30 min) |