Dear all,
with tourist season a large number of visitors is visiting our park which results in crowds and waiting. Our wish is that you experience Plitvice Lakes in the best possible way and this does not include waiting in lines. For this reason, we have prepared some tips for you regarding your visit to Plitvice Lakes National Park and its surroundings so after your trip, you have only beautiful memories.
For start – one day is not enough to experience all the beauties of Plitvice Lakes National Park and its surrounding. If you have the opportunity, we recommend you stay longer so you can fully experience all nature and attractions of our area.

Plitvice Lakes National Park visit
Plitvice Lakes National Park offers seven different sightseeing routes to tour the lake system. Each program in description has the average time you need to finish it. Please be sure to inform yourself about the lengths of trails in order to have enough time to tour the desired program.

For easier sightseeing, we've prepared a mobile app with all the programs you can access by clicking on

link.

Check the weather forecast before coming to the park
Wear the appropriate clothing and footwear (clothes in layer and preferably mid-cut hiking shoes).
Bringing adequate rain and sun protection (umbrella, raincoat; sunglasses, hat, sunscreen – depending on weather forecast).
Choose the time of arrival – due to the large number of visitors and the crowds that occur, during period from 10:00 to 14:00, occasional closure of the park is possible, so we recommend that you avoid this time and move your visit earlier or after 16:00 when ticket are lower. More about prices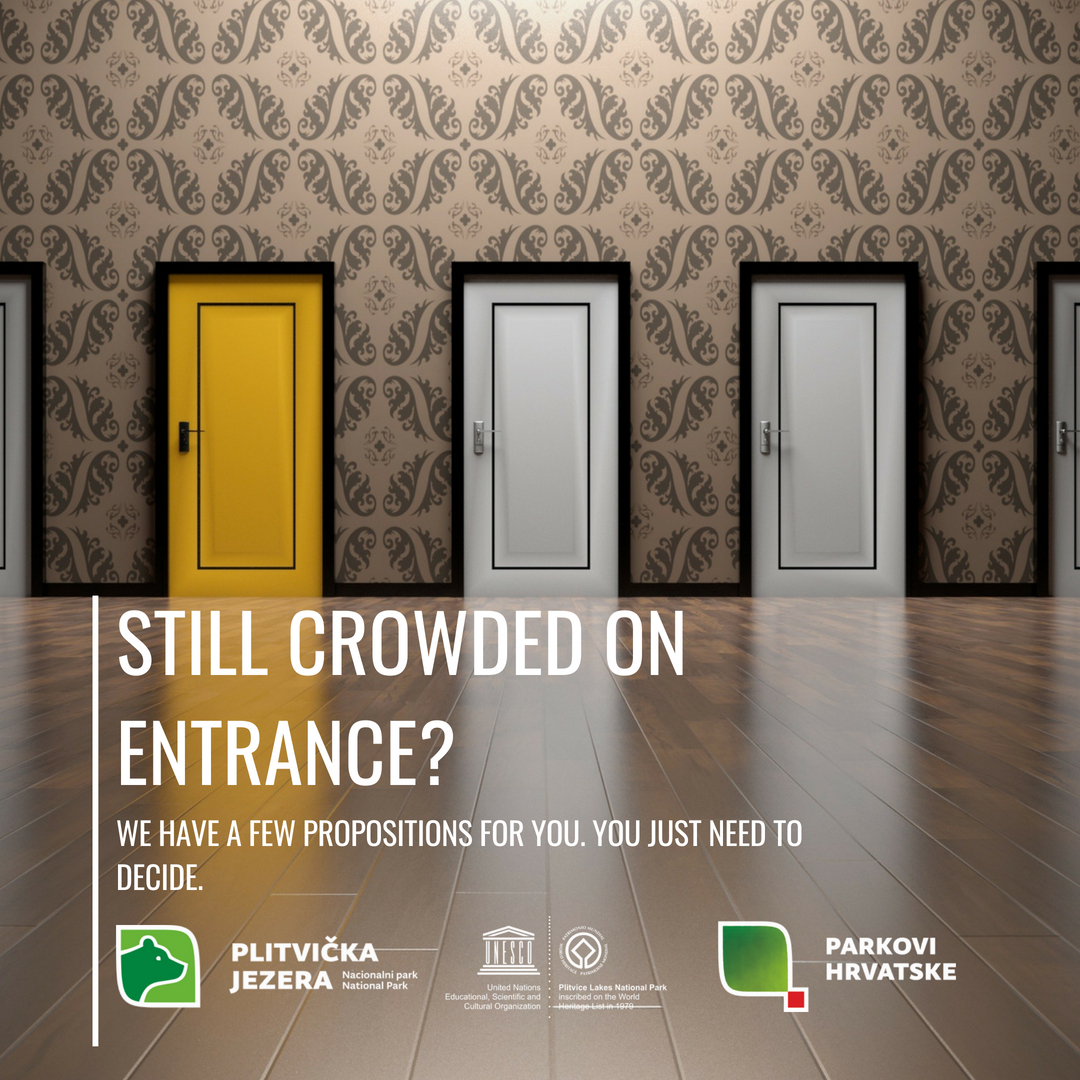 Still crowded on entrances?
The park surrounding is rich in natural beauty and offers various activities so our recommendation is to visit some of these many beautiful locations and return to the park after 16:00 when the tickets are cheaper and you can enjoy park without crowd.
To help you to choose easier, we've prepared an app where you can see our recommendations, their description, location and website!
All you need is to click on the photo bellow or the following link.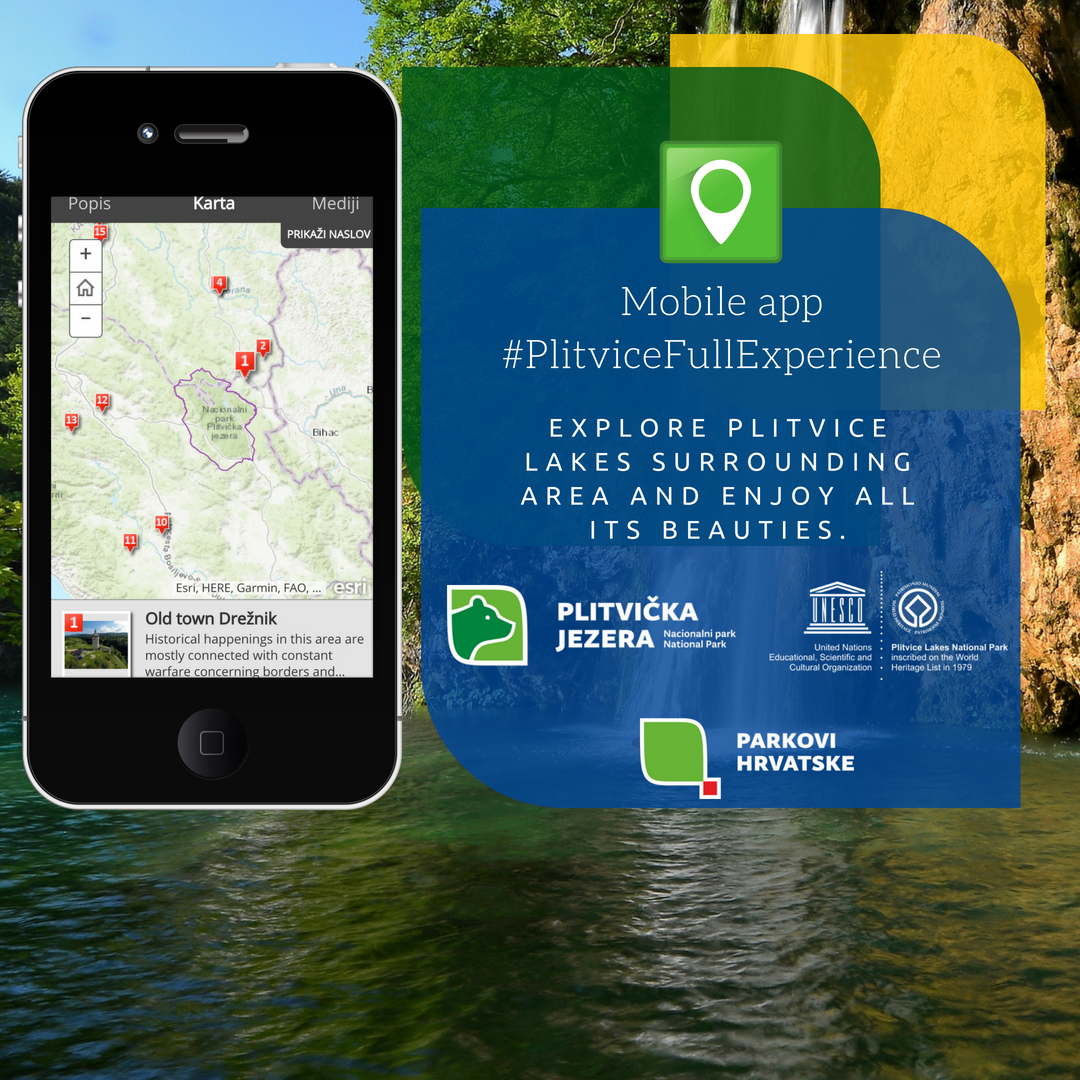 Lika Destination visit –
9 protected areas for 300,00 kn (LIMITED EDITION)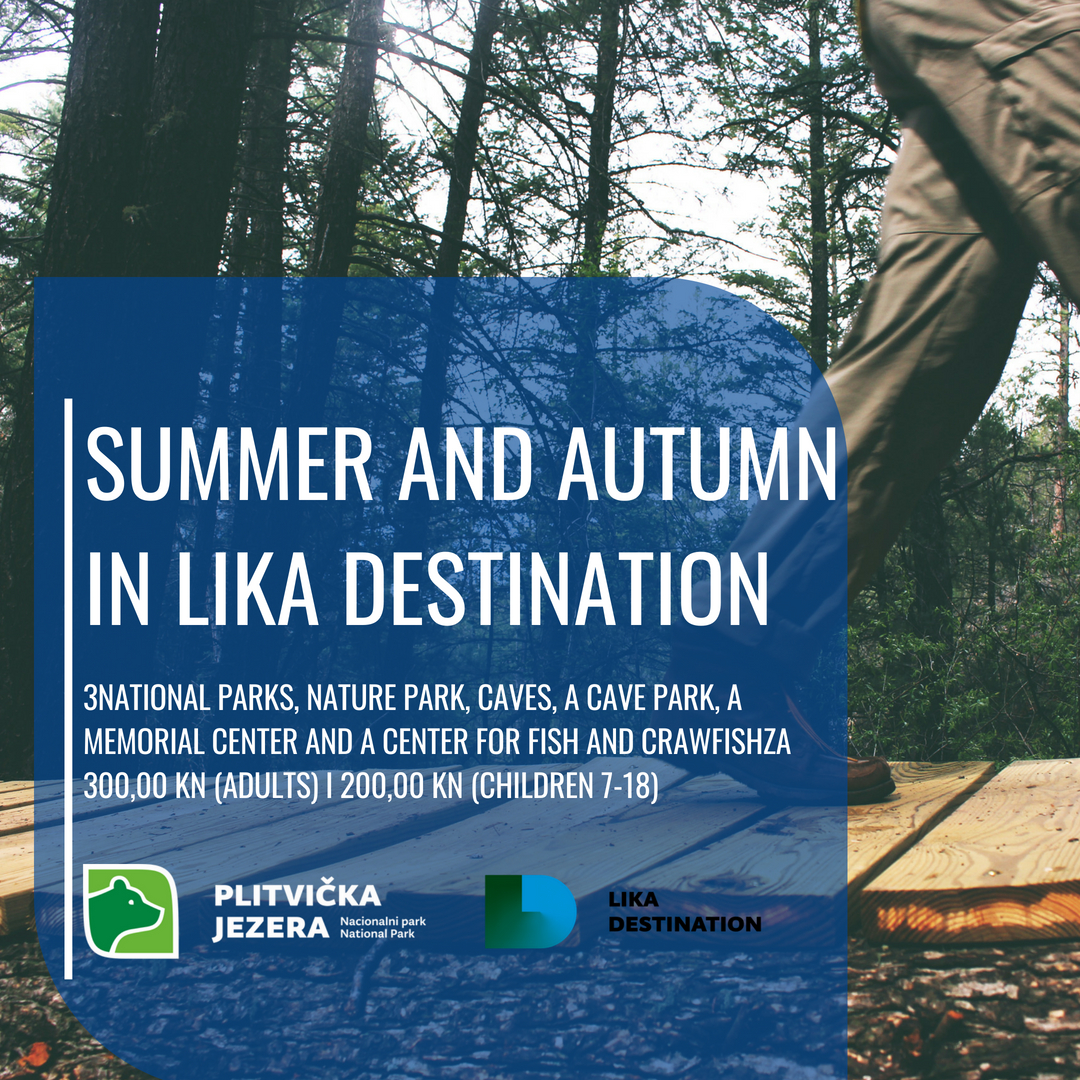 When you get to the point of buying entrance ticket for Plitvice Lakes National Park you can choose to buy our regular ticket or booklet with offer for visit Lika Destination in which you can visit 9 protected areas for price of 300,00 kn for adults and 200,00 kn for children. The best part is that you can use your vauchers by 31st of October 2018. Since only a ticket to NP Plitvice Lakes is 250,00 kn, and the mentioned promotional price for a total of 9 locations is 300,00 kn, we recommend anyone who has the opportunity and time to take advantage of this offer and enjoy beautiful locations of Lika Destination. The number of booklets with the vauchers is limited so we recommend everyone interested in buying them to do that as soon as possible. 🙂
The booklet with vauchers includes the following locations:
Plitvice Lakes National Park
Northern Velebit National Park
Paklenica National Park
Velebit Nature Park – Cerovačke pećine
Velebit Nature Park – Zavratnica Bay
Barac's Caves
Cave Park Grabovača
Memorial Center Nikola Tesla
Croatian Center for fish and crawfish in karstic waters
More details can be found on >> link <<
We wish you a pleasant stay in our park and its surroundings. Please note that high tourist season always carries certain crowds therefore we strongly recommend that you plan your visit according to the above instructions.
If you visit us, do not forget to mark your photos with the following tags: #PlitviceFullExperience, #LikaDestination
We are looking forward to your arrival!
Your National Park Plitvice Lakes