Medveđak hiking trail
"…ad lapidem, qui vocatur Pes Ursi"
"at the frontier called the Bear's Foot"
Once the people of this land looked up to nature with deep awe and perhaps fear, calling this land 'the devil's gardens', because of the dense, hard to penetrate woods or because of the Turkish Empire frontier. Legends were woven about this isolated and unexplored area, tales were told about the Black Queen, Fairies of the Lake, freezing-cold winters, mountain giants and wild forest creatures. Then, towards the end of the 19th century, Plitvice were discovered by the sovereigns of that time. By the end of 19th century (1894), a trail was constructed leading to Tupi (Dull) Medveđak Peak. In 1900, the Forest Erar built a forest trail from the place where the hotel was located, to Oštri (Sharp) Medveđak Peak. The trail was called Blanka's Trail, after Archduke Leopold Salvator's wife (Habsburg-Lothringen Dynasty). The trail fits nicely into the landscape and reflects the exceptional care devoted to nature conservation. Medveđak is an 8-km long woodland slope stretching from Mt Plješivica in NW direction and represents one of the most enchanting points in the Park, with its numerous panoramic vistas of the Plitvice Lakes and of the whole area between Mala Kapela and Lička Plješivica.
This ridge is characterised by three peaks: Oštri Medveđak (889 m), Tupi Medveđak (868 m) and Turčić (801 m), with old beech forests that had been left to natural development. This interesting phenomenon links all three Medveđak peaks. This area is exceptionally rich in biodiversity, teeming with species that thrive in the natural conditions, which is also true for the rare or endangered species.
This area is a perfect habitat for large predators: wolf (Canis lupus L.), lynx (Lynx lynx L.), and brown bear (Ursus arctos L.) Indeed, this massif is called after the bear (Croatian: medvjed, i.e. Medveđak). Those who venture here will be delighted to hear sounds of wild animals and enjoy the blossom colours in the flowering seasons.
Instructive boards are set up alongside the trail, providing various interesting facts about forest ecological systems. The complete experience of the National Park definitely includes insight into its eco-systems that cover over three-quarters of its surface area.
HIKING TRAILS:
Trail no. 1
(1-5), approx. 2 h 30 min.
The trail starts at the Hladovina parking lot (Entrance 2) near the walking bridge across the main road D1. Five-hundred meters down the road you will reach the first intersection (point no. 2), where from you can walk on towards the foot of Oštri Medveđak peak (point no. 3). Another option is to walk towards point no. 4 (a junction below Turčić → see Trail no. 2). The trail begins as a mild downward slope, by the car park at Entrance Gate 2, towards the end of the forest road, and leads on along the well-maintained hiking trail, circling around the Forestry Institute ground, and up, to an overgrown meadow called Hrnjakuša. From point no. 3 you may either carry on towards the Oštri Medveđak peak, or over the Tupi Medveđak towards point no. 4 (a crossroad before Turčić). The ascent to the Oštri Medveđak peak continues over mild serpentines. To continue hiking over the Tupi Medveđak peak, you should return from Oštri Medveđak to point no. 3 to Entrance 1 (point no. 5).

Trail no. 2
(2-4) approx. 1h, 30 min.
From the intersection at point 2 to Turčić, the trail first ascends mildly over the karst terrain. Specific karst formation may be observed at every step: there are pits, gorges and karrens. Passing a common spruce community (Picea abies L.) growing on a plane where there used to be a grassy turf, the ascent gets heavier and continues until it joins with Trail no. 1 and the road turning towards Turčić (point no. 4). The ascent to Turčić is less demanding and it takes 5 minutes from point no. 4. Return to any of the Entrance Gates from this point: Entrance no. 1 -> Trail no. 1 (over a walking bridge onto the marked trail, Trail no. 1 -> Trail no. 2 (the scheduled panoramic train rides), Trail no. 2 -> (over the walking bridge over D1 motorway (Zagreb-Split), to the car park of Entrance 2). Hikers and visitors may combine these two trails.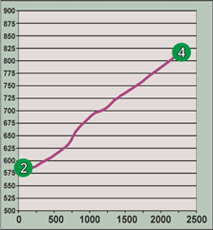 Medveđak peaks
Oštri Medveđak (899 m a.s.l.)
The size of this artificial plane constructed of rocks is 4×20 m and represents the highest Medveđak peak, offering a view of Lička Plješivica, Una River valley (Bihać), Korana River valley and the towns and villages of Drežnik Grad, Selište Drežničko, Rakovica, Vaganac and Ličko Petrovo Selo.
Tupi Medveđak (868 m n.m.)
This is an impressive peak, commanding a magnificent view of 6 lakes (Prošćansko lake, Ciginovac, Okrugljak, Galovac, Gradinsko lake and Kozjak), Lička Plješivica and Mala Kapela. It harbours beech and obtuse maple communities. The southern slope below the peak itself is characterised by a medicinal herb Rhamnus Falax Boiss that finds its habitat on the rocky soil of the peak.
Turčić (801m a.s.l.)
From Turčić, the lowest peak in the Medveđak trio, one can marvel the view of Kozjak Lake, the Great Fall and its surrounding area, Jezero Hotel and Poljana and Plitvica Villages. If the weather is good, a view of Bjelolasica, the largest mountain in the Velika Kapela massif opens up unhindered.
The peaks of Medveđak are interesting in any season, however, their early spring and late autumn aspect is a peculiarity, both before the trees leaf out and when the leaves fall off. Observation of this area in winter with moderate amounts of snowfall is also worthwhile.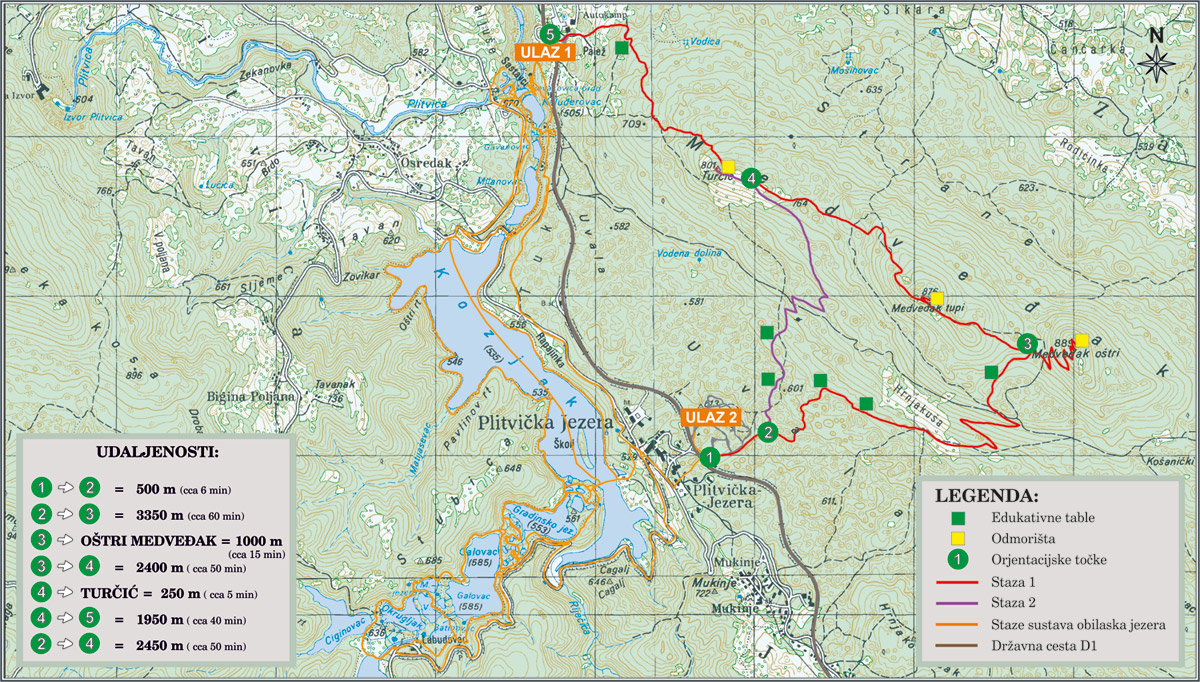 Explore hiking trails Čorkova Uvala and Plitvica
The remarkable experience of the Park is even more exciting if one takes a closer look at its forest ecological systems, prevailing on over three-quarters of its surface. These instructive trails tell stories about the forest systems native to the Plitvice lakes area that harbour biodiversity helping the lake ecosystems proliferate. The trails lead through large forest complexes and mountain meadows with wonderful viewpoints. Boards accompany the itinerary, leading the reader through enchanting forest wildlife habitats and historical and cultural sights of this area. The trails are quite long and the terrain varies, so explorers will also benefit from its recreational aspects.
The forests and meadows are home to various wildlife species such as bear, wolf, roe deer, red deer, lynx and wildcat. Therefore, if you are lucky enough, you may encounter some of these on the way! If this does not happen, though, the tracks they leave are also interesting (prints, excrement etc.) Birdsong (woodpeckers and singing birds) in harmony with the creaking of centennial tree branches swaying in the wind create an unforgettable symphony of nature.
For those wishing to discover the 'Čorkova Uvala forest eco-systems there are two itineraries to choose from:
1. 'Čorkova Bay' Trail (St 3-1-2-3-P3) – 21 kilometres long
(St 3, 1,2,3, P3) – 21 km long. The beginning of this trail is at Labudovac (panoramic train stop no. 4), over point 1, forking off from the trail called Plitvica, to Čorkova Uvala Village (2) and back over Mt Preka Kosa to point no. 3, where it joins Plitvica trail again and leads further on to the ship dock (P3) at Kozjačka draga.

2. 'Plitvica' Trail (St 3- 1-3-P3) – 9 kilometres long
(St3, 1, 3, P3) – 9 km long. The beginning of this trail is at Labudovac (panoramic train stop no. 3), over point no. 1, where it forks off from 'Čorkova uvala' Trail towards point no. 3, where it re-connects the 'Čorkova Uvala' Trail continuing further on downstream along the Plitvica Stream to the Great Fall and the ship dock P3 at Kozjačka draga.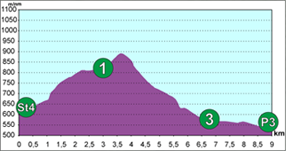 Your starting point or final destination may be either:
St3 – the Labudovac panoramic train stop *
P3 – Kozjačka Draga dock **
2 – Čorkova Uvala village (at the warden's hut)***
* it is recommended to arrive by panoramic train if you select the St4 point as your starting point.
** The P3 starting point is at Kozjačka Draga, where the ship dock is located.
***'Čorkova Uvala' as the starting or final point is suitable for organised visitor groups. Arrival at this site is possible only by transportation organised by the Park, and groups must be accompanied by a ranger. Please contact the National Park Sales Office for booking.
We recommend visiting Labudovac (St3) and P3 boat dock at Kozjačka Draga points, regardless of the chosen trail.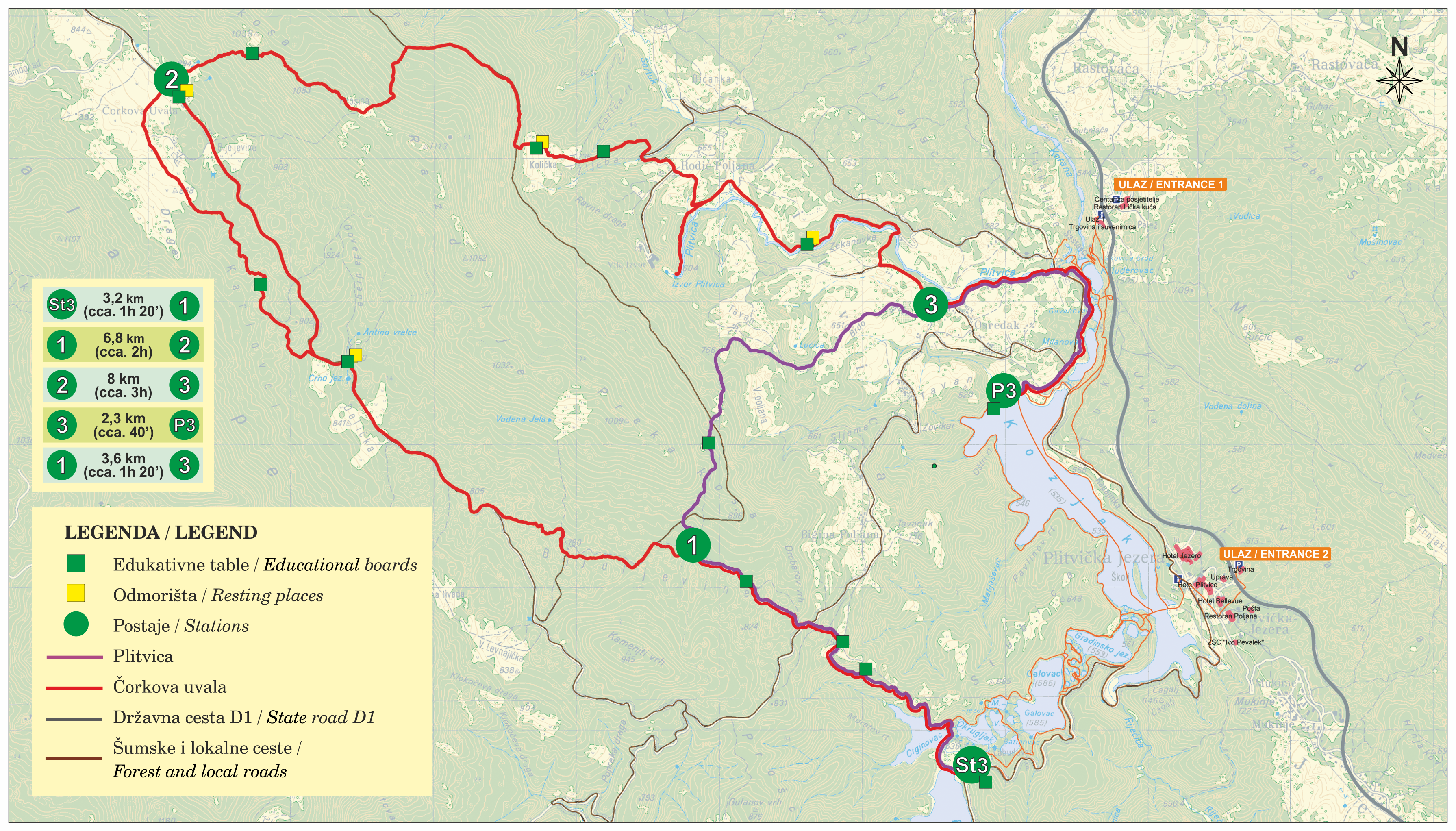 HOW TO BEHAVE ON THE TRAIL:
Prepare well in advance
Before you set off, collect information about the trail. Always carry a trail map with you.
Explore the trail only in the company of a ranger:
If you feel insecure about exploring the trail, do not set off without a National Park ranger.
Take only the marked routes.
Take only the marked routes and observe the marks.
Use up to date information about the weather
Before you start, check the weather forecast and do not start if the forecast is bad (snow, heavy rain, thunderstorms, strong wind).
Have all the required hiking equipment
Use mountain hiking clothes and shoes.
Observe the peace and quiet in the animal's habitat
Always bear in mind that you are moving through a home of numerous animals. Look forward to possible encounter with any animal, yet respect their natural living area. Do not hunt, feed or disturb them in any way. However, try to speak loud enough so that the animals may hear you and keep away.
Never go hiking alone.
Never go hiking alone.
Do not drop litter.

 


Do not drop litter, take it with you. Keep the nature clean and well-maintained for the future generations.