Dear all,
hereby we invite you to attend the opening of our international ceramics exhibition:
Water, fluid of life Hotel Jezero, Plitvice Lakes National Park, Saturday, June 8th 2019., 18.00
The theme of the exhibition is water in all its aspects and forms. Water as a universal life force, life's fluid, source of inspiration. And what better place to get inspired and to experience this force but the Plitvice lakes, a UNESCO protected national park with 16 falling lakes and countless waterfalls in the midst of Lika Destination, Croatian highlands.
Lately, water has been studied not only by scientists but also by explorers, artists, philosophers and ecologists. They study the phenomenon of water, they try to explain all the extraordinary qualities that make this fluid specific and unique to this planet and universe.
Join us on this feast of art and nature. Spare a moment to think about water. The expo wil be held from June 8th to 16th 2019 at hotel Jezero, Plitvice Lakes National Park. The works submitted will be presented inside and in te open air atrium of the hotel.
Why 2019? There are several very good reasons to that
This year our Park is celebrating 70 years of our official national park status (since 1949), 40 years of UNESCO recognition (since 1979) and a beginning of a new phase in our existence, with focus on sustainability and cooperation with the local community. One of the activities is blending nature and art, presenting different ways of looking at and interacting with water.
International ceramics centre Atelier Janja Gora celebrates 13 years from the beginning of the project.
Opening program, 8th of June, 2019, Hotel Jezero:
18.00 – welcome speech (organizers)
18.15 – welcome speech (Plitvice Lakes National Park)
18.45 – concert Putokazi
19.30 – opening buffet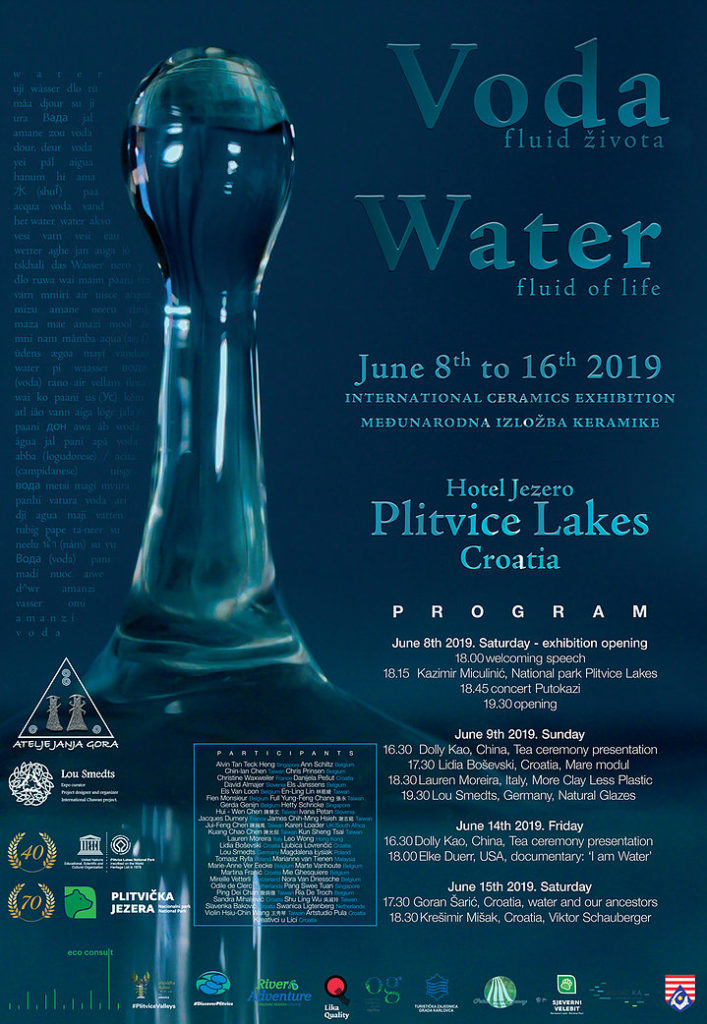 We look forward to your arrival!