Hours of operation of park entrances: 8:00 – 15:00 │ Ticket sale: 8:00 – 13:00
---
ENTRANCE TICKET PRICES
Dear all, experience winter magic at Plitvice Lakes National Park with special ticket prices, excellent offer at the Hotel Jezero and nature that takes your breath away and rests your mind and body.
Period ►
Price per person (HRK) ▼
1.11.2021. – 31.3.2022.
Adults
80,00
Adults – groups*
75,00
Students
50,00
Students – groups*
45,00
Children 7-18 years
35,00
Children 7-18 years – groups*
30,00
Children up to 7 years and persons
with disability (over 50%)
GRATIS
IMPORTANT NOTICE: Wearing face masks in panoramic vehicles and indoors is mandatory.
---
BOOK YOUR ACCOMMODATION
Winter moments at Plitvice Lakes
There is something magical in the silence of winter, landscapes where time seems to stand still. We invite you this winter to experience the idyllic scenes of the sleepy nature of Plitvice Lakes, feel the benefits of a healing stay in the fresh air and taste the richness of our gastronomic offer inspired by the Lika tradition.
In order to provide you with a unique winter vacation and a break from the hectic pace of life, we have prepared a winter package which includes 1, 2 or 3 nights with breakfast or half board at Jezero hotel and tickets to the Plitvice Lakes National Park. In this special offer we have arranged discounts for you on numerous facilities: Finnish sauna in Jezero hotel, massage in Fors Fortis beauty salon, horseback riding on Ranch Terra, entrance ticket to the Velebit House in the Northern Velebit National Park and purchase of traditional brandies and liqueurs on the Vlainić family farm. For all of you who opt for a bed and breakfast service, we offer discount on dinner at the Lička kuća restaurant for the entire duration of your stay.
Take a winter vacation and experience the magic of Lika winter at Plitvice Lakes!
1 overnight – bed & breakfast
ticket to the National Park (valid for the entire stay)
20% discount on dinner at Lička kuća restaurant
20% discount on Finnish sauna at the hotel
20% discount for RELAX massage (duration 60 min) at "Fors Fortis" cosmetic salon at the hotel
20% discount for horse riding at "Terra" horse ranch
Price per person: from 365,00 kn
---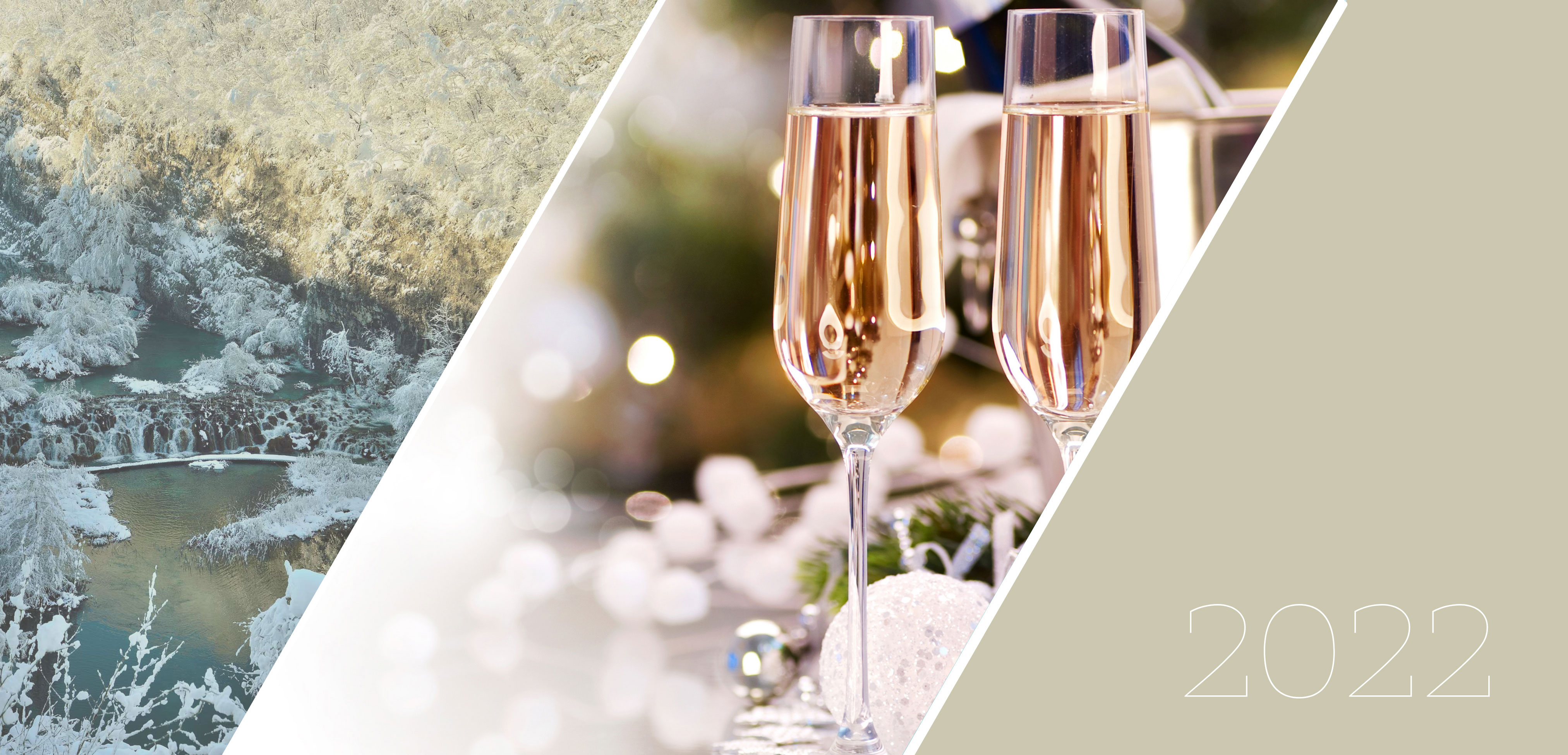 We invite you to celebrate the arrival of the New Year 2022 at Jezero Hotel, surrounded by the relaxing winter idyll of Plitvice Lakes National Park. While nature sleeps, beautiful waterfalls murmur until the cold of the Lika winter calms them down. In this winter fairy tale and the glow of New Year's Eve at Jezero Hotel, leave everything difficult behind, enjoy warm words, smiles and share with your loved ones the beginning of a greater year!
We have prepared for you New Year's packages that include 1, 2 or 3 nights with New Year's Eve celebration at Hotel Jezero, a ticket for the Plitvice Lakes National Park and Mukinje ski resort *. Depending on the number of nights you choose, as a part of the arrangement we have provided numerous facilities: a trip to Prvan Selo to Family farm Vlainić for tasting traditionally made Lika brandies and liqueurs, with lunch and a presentation of Lika tradition by Sinac Folk Ensemble included, guided tour through the Park, lunch and dinner offer in our facilities with live music, children animation, a gala dinner with a rich selection of dishes and a midnight buffet as well as a traditional New Year's picnic lunch at Kozjačka Draga in the heart of the National Park.
If you plan to stay for one night, this year you can decide on New Year's Eve celebration in Jezero Hotel or in the traditional ambience of Lička kuća restaurant, where you will have the opportunity to enjoy the tastes of Lika cuisine and food produced in the ecological oasis of Lika destination. The option of New Year's Eve celebration without an overnight stay is also possible in the Jezero Hotel or the Lička kuća restaurant.
Therefore, discover Lika with all your senses and start the New Year 2022 in the Plitvice Lakes National Park!
---
GASTRO OFFER
Lička kuća Restaurant
Working hours: 11:00 – 23:00
If you are looking for a wide range of traditional specialties and flavours prepared in novel ways and served in a traditional setting, then the Lička kuća national restaurant is a must-visit location. Just imagine the scene – an open fire pit, the crackling of the fire flickering under the spit, the air filled with aromatic spices and aromas beckoning you to taste the freshly-roasted delicacy of the Lika region which is about to appear on your plate in just a few minutes. In addition to traditional dishes prepared in new ways, Lička kuća is where you can also enjoy the flavours of traditionally prepared lamb and veal under the baking bell, Lika potatoes etc. For the preparation of such dishes, guests should announce their arrival three hours earlier.
---
Vučnica Bistro
Working hours: 07:00 – 23:00
Two kilometers from the southern entrance (Entrance 2) to the national park, is located the Vučnica bistro, overlooking a small ski resort and the beautiful nature that surrounds it. Bistro Vučnica offers visitors homemade sausages, pizzas, burgers and desserts such as basa cake.
---
Jezero Restaurant
Working hours a la carte restaurant: 11:00 – 23:00
Lobby bar: 7:00 – 23:00
The unbridled beauty of Plitvice Lakes National Park enchants every visitor. Its crystal-clear lakes, the murmur of water and the sound of waterfalls echoing through the forest are the reason why Plitvice Lakes is by far the most visited national park in Croatia. Situated in this oasis, located only about 300 m from the biggest lake Kozjak and its lush greenery, Hotel Jezero is hidden away in the quiet environment of Plitvice Lakes, which makes it a perfect location for a holiday in nature. Inside, you can find Restaurant Jezero and enjoy the view of relaxing greenery from it's terrace. The pleasant ambience of our lobby bar and outdoor terrace is as enjoyable as our wide selection of beverages and treats.
---
Other restaurants and buffets inside the Park
---
WHAT TO VISIT IN SURROUNDING AREA?
Driven by the desire to show you all beauties of our Park and surrounding, we have prepared recommendations on what to visit in the vicinity of the Plitvice Lakes National Park. The app contains recommendations on what to see, what activities to try, which bike paths to go on… It is up to you to choose the one that is most interesting to you. We wish you a wonderful visit and vacation in the Plitvice Lakes National Park and a handful of adventures in our area.