Plitvice Lakes karst relief is developed in Mesozoic carbonate rocks (mostly limestone and dolomite) with numerous surface and subsurface karst landforms. Some of them you can see while driving around or walking in Park, but a large number of them is hidden underground, still untouched. Eldorado for speleologists, biospeleologists, geomorphologists and other scientists and experts.
From the standpoint of nature protection, caves are extremely important because they are habitats of many rare and protected species, and are rich in cave decorations that are created for thousands of years.
Morphologically, there is a difference between caves formed beneath the tufa barriers (about which you could read during Tufa week) that are most common at the Upper Lakes, and those formed by erosion-corrosion processes in karstified carbonate rocks, created by the millennia work of surface and groundwater.
By now, about 100 caves have been explored in the area of the National Park. The longest cave is 165 m long Golubnjača (Korana canyon), while the deepest pit is Čudinka, 203 m deep.
In 1964, within the Plitvice Lakes National Park, three caves located in the canyon of the Lower Lakes and the Korana River, were declared geomorphological natural monuments. Those are:
Šupljara cave

– caused by the collapse of the bottom of the doline, or the ceiling of the cave. It has three halls connected by a spacious hallway, total length of 68 m. In one hall there are a couple of tuberous ornaments and a column, formed by consolidation of stalactite and stalagmite. Šupljara cave is the only one open for visit.

Black cave (Lake Fairies' cave)

– it was named Black because of guano depozits (bat feces), but it is also known under as Lake Fairies' cave, because of one speleothem that looked like a fairy. The cave if formed of upper and lower hall with a total length of 105 m.

Golubnjača cave

– formed of two halls with a total length of 165 m. It has a large "lobby" and is rich in cave decorations. For conservation purposes, Golubnjača cave as well as the Black cave, is closed for visit.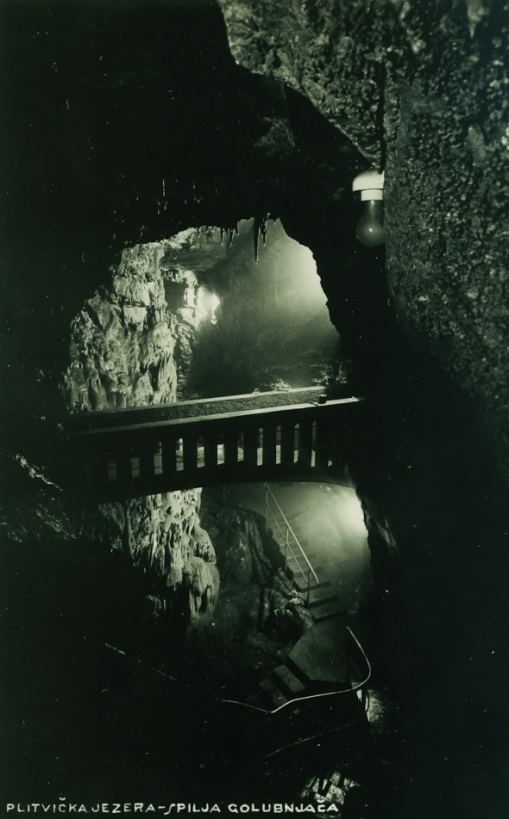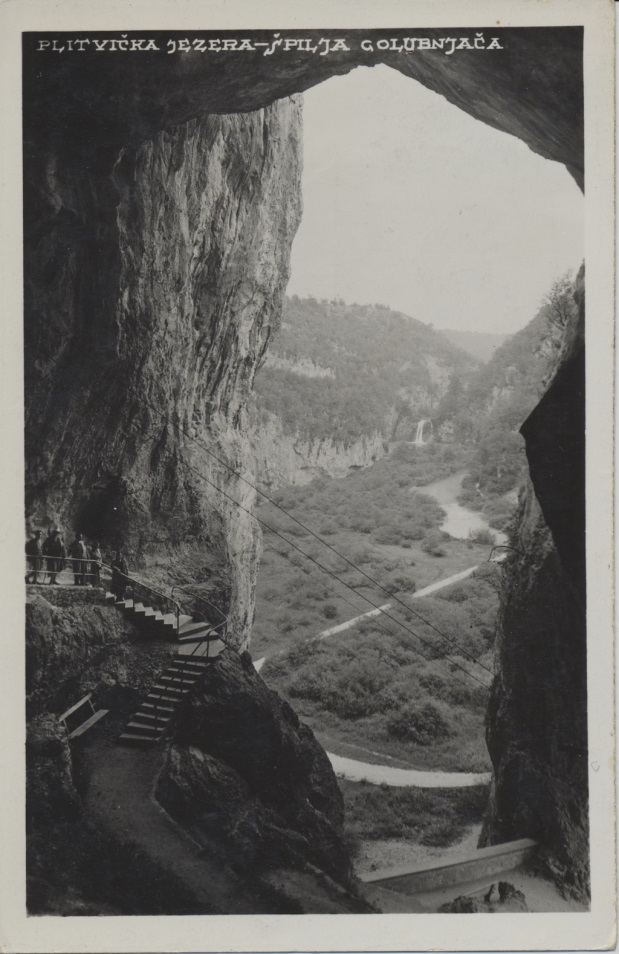 Golubnjača cave, early 20th century – inadequate concrete bridge inside the cave and a view from the cave towards Sastavci falls and Korana river spring (PL NP archive)
Note: Geo Week is the third of eight promotional weeks by which we want to announce birthday of Plitvice Lakes National Park. Find out more
Your Plitvice Lakes National Park